G E T O U T W H I L E Y O U C A N
⚠︎ ご購入前に、必ず下記の説明を読んでください。
⚠︎ Before purchasing, be sure to read the following instructions.

エディションナンバーはお選び頂けません。ご了承ください。
Please note that there is no choice of edition number.

インクの濃淡や、紙質の違いなど、1点1点個体差がございます。ご理解の上、ご購入ください。
There are individual differences in ink shading and paper quality. Please be aware of these differences.


Title : GET OUT WHILE YOU CAN
Size : 350×500mm
Stamp : Yes
Other : Screen Prints on Paper
Price : 19,000yen(tax in)
Factory : WCP(THE WEST COUNTRY PRINCE)

※この作品は、忠実に再現したリプロダクション品となります。ご理解の上、ご購入ください。
※Please note that this is a faithful reproduction of the original. Please buy with understanding.

※売り上げの10%が、動物保護のための費用として使われます。
※10% of all sales go towards animal welfare.

※全国送料無料、海外発送(有料)にも対応します。
※Free shipping throughout the country and international shipping (charges apply).
*Tax included.
*Additional shipping charges may apply, See detail..
About shipping fees
The shipping fee for this item varies by the shipping method. Customers can choose the shipping method at time of purchase.
送料無料(ヤマト宅急便)

荷物追跡に対応しています。

Shipping Fees are the same all over country inside Japan ¥ 0
EMS or DHL

This shipping supports package tracking.

Shipping Fees are the same in all countries outside Japan ¥ 3,800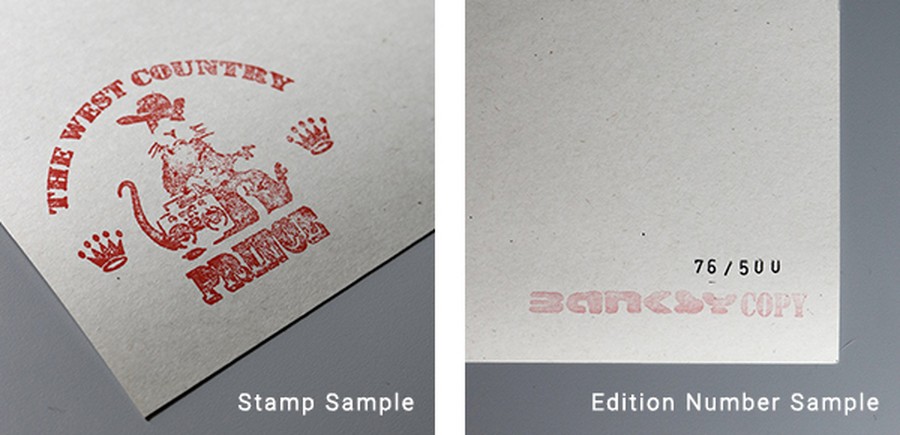 納期 Delivery time
4月上旬にイギリスより日本に向けて出荷されます。到着後検品し、お客様の元へお届けします。4月下旬から末を予定しております。状況は随時ご報告いたします。

They will be shipped from the UK to Japan in early April. Delivery is expected in late April. We will keep you updated on the status.
注意事項 Points to note
納品までお時間を要するため、先に発送完了のメールをお送りする場合がございます(自動キャンセルとなってしまうため)。また、ご注文後のキャンセルはお受けできませんのでご了承ください。

Due to the time required for delivery, we may send you a dispatch confirmation email first (as this will be automatically cancelled). Please note that we cannot accept cancellations of orders after they have been placed.


すべての作品は、別場所のギャラリーより発送いたしますので、配送でのお受け取りのみとさせていただきます。店頭でのお受け取りはできませんので、ご了承ください。

The works cannot be picked up in stores. All works will be shipped to you.
フレーム Frame
ポスターサイズに合わせた、オリジナルフレームのご注文が可能です。購入または検討をご希望の方は、備考欄に「フレーム希望」とご記入ください。詳細(材質の種類や金額など)を、追ってメールでご連絡させていただきます。

We are sorry but please note that frame orders can only be shipped within Japan.
PAY IDへのご登録 Sign up for PAY ID
PAY IDはPAY株式会社が提供している決済サービスです。登録しておくと、お買い物の際にメールアドレスとパスワードを入力をするだけで、住所や名前、クレジットカード情報などを入力せずに、購入ができるようになります。

決済ページにて登録が可能ですが、クレジットカード有効性確認の為に数円〜数十円の支払い処理が行われる場合がございます。
※こちらの支払いには即時返金処理が行われます

PAY ID is a payment service provided by PAY Corporation. Once you have registered, you will be able to make purchases without entering your address, name or credit card details, simply by entering your email address and password.

You can register on the payment page, but you may be asked to pay a small fee to confirm the validity of your credit card. This payment will be refunded immediately.


1. 登録を希望されない場合は、「ゲストとして購入」を選択してください。

1. If you do not wish to register, please select "Buy as a Guest".

2. 購入者情報の入力ページ最下部にある「利用規約に同意してPAY IDに登録」のチェックを外してください。

2. Please uncheck the box "Creating a PAY ID account agreeing to the Terms of Use. " at the bottom of the page where you enter your purchaser details.

決済がうまくいかない場合は、メールでもご注文可能ですので、お問い合わせくださいませ。
< meliberty.jp+galleryB@gmail.com >

If you are unable to make a successful payment, you can also place your order by email.
< meliberty.jp+galleryB@gmail.com >